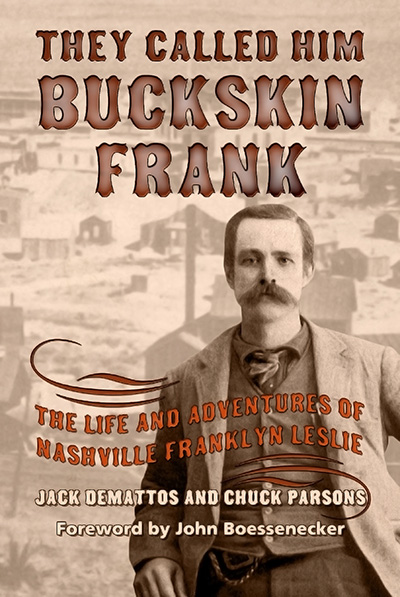 They Called Him Buckskin Frank: The Life and Adventures of Nashville Franklyn Leslie
31 b&w illus. 2 maps. Notes. Bib. Index.
Features
About DeMattos and Parsons's They Called Him Buckskin Frank
Nashville Franklyn "Buckskin Frank" Leslie was a man of mystery during his lifetime. His reputation has rested on two gunfights—both in storied Tombstone, Arizona—but he was much more than a deadly gunfighter. Jack DeMattos and Chuck Parsons have combined their research efforts to help solve the questions of where Leslie came from and how he died.
Leslie developed a reputation as a man to be left alone. Such notables as the Earps, Doc Holliday, and John Ringo wisely avoided confrontations with him. Leslie was a "lady killer" both figuratively and—in one celebrated incident—literally. Beyond his gunfighting legacy, DeMattos and Parsons also explore Leslie's scouting with General Crook on the Great Plains and his alleged service as a deputy for Wild Bill Hickok in Abilene, Kansas.
"In almost every work that in any way relates to southern Arizona in the 1880s, Leslie is present. This book will be the new standard for anyone interested in the life of Buckskin Frank. Both in form and content this book finally gives Frank Leslie a place in the Tombstone story." —–Gary Roberts, author of Doc Holliday: The Life and Legend
About the Authors
JACK DeMATTOS is the author of seven books on western gunfighters, including The Notorious Luke Short co-authored with Chuck Parsons. He lives in North Attleboro, Massachusetts.
CHUCK PARSONS is the author of Captain John R. Hughes: Lone Star Ranger (winner of the WWHA Best Book Award); The Sutton-Taylor Feud; Captain Jack Helm; John B. Armstrong: Texas Ranger, Pioneer Rancher; and Captain L. H. McNelly. He is also co-author of A Lawless Breed: John Wesley Hardin, Texas Reconstruction, and Violence in the Wild West and Texas Ranger N. O. Reynolds. He lives in Luling, Texas.