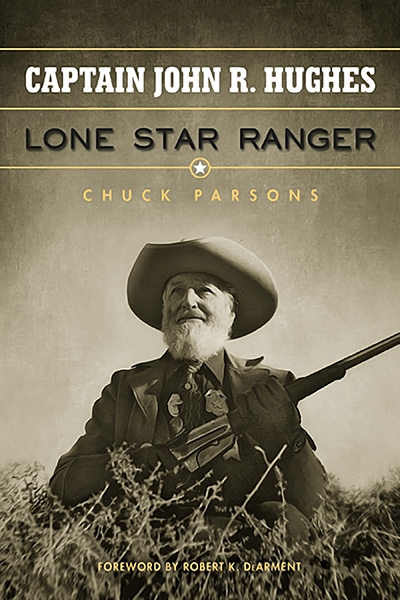 Captain John R. Hughes, Lone Star Ranger
Best Book Award from the Wild West History Association, 2012

Co-Founders Best Book Award from Westerners International, 2012
50 b&w photos. Notes. Bib. Index.
Features
About Parsons's Captain John R. Hughes, Lone Star Ranger
Captain John R. Hughes, Lone Star Ranger is the first full and complete modern biography of a man who served as a Texas Ranger from 1887 until early 1915. In his early years he lived in Indian Territory among the Choctaw, Osage, and Comanche Indians, becoming friends with Quanah Parker. Once in Texas, he bought a farm and raised horses on a ranch in Travis County. When horse thieves made off with several horses from his farm and his neighbors, Hughes was determined to hunt them down. He doggedly trailed the thieves for nearly a year, killed several of them in New Mexico, and returned home with the horses, earning the admiration of his neighbors and the Texas Rangers.
While Hughes was still a rancher, Ranger Ira Aten sought his help to track down a fugitive from justice. The pair tracked him to a home in the Hill Country, where he resisted arrest and died from a single bullet fired. John R. Hughes then joined Company D of the Texas Rangers on Aten's recommendation, intending to stay for only a few months; he remained in the service for nearly thirty years. When Sgt. Charles Fusselman was killed by bandits, Hughes took his place. When Captain Frank Jones was killed by bandits in 1893, Hughes was named captain of Company D. As captain, Hughes and his men searched the border and identified every bandit involved in the killing of Jones. They all received justice.
Toward the end of his career Hughes became a senior captain based in Austin, and in 1915, having served as a captain and ranger longer than any other man, he retired from the force. His later years were happy ones, with traveling and visiting friends and relatives. He became a Texas icon and national celebrity, receiving more awards and honors than any other Texas Ranger, before or since. He was the inaugural recipient of the Certificate of Valor in 1940, an award given to highlight the bravery of peace officers.
Due to Chuck Parsons's extensive research, we now know more about Hughes than ever before. This biography sheds light on his life prior to becoming a Texas Ranger and on his love interest, though he never married. From joining Company D in 1887 until retirement, Hughes served the state honestly and proudly, earning the respect of all he met. Zane Grey dedicated his most popular novel, The Lone Star Ranger, to Hughes and his Rangers. One of the Four Great Captains, Hughes lived until 1947, when he took his own life, and is buried in the Texas State Cemetery.
"John Reynolds Hughes, one of the four great Texas Ranger Captains, was the only Captain without a modern biography. Chuck Parsons's outstanding history of Hughes's life has filled this gap. Parsons makes a significant original contribution to Ranger history by documenting how Hughes became the first celebrity Texas Ranger following his forced retirement by the infamous Governor James Ferguson." —Louis R. Sadler, co-author of The Texas Rangers and the Mexican Revolution
"The Adjutant Generals who presided over the Texas Rangers at the turn of the century had men they could trust to enforce the law. McDonald could handle any mob; J. A. Brooks let his gun do the talking; John Rogers was a steadying presence; and John R. Hughes was the most perseverant of them all. No one tracked a fugitive like Hughes. Chuck Parsons has completed the story of the "four great captains" with this dynamic biography of Hughes, and every reader will be enthralled with the action-adventure Parsons has brought to the Rangers bookshelf." —Paul N. Spellman, author of Captain John H. Rogers, Texas Ranger and Captain J. A. Brooks, Texas Ranger
"I had always planned to do a biography of Texas Ranger Captain John R. Hughes, a friend of my late granddad, L.A. Wilke. Instead, I ended up focusing on a two-volume Ranger history. Fortunately, Chuck Parsons produced this solid biography of one of the best Texas lawmen to ever sit a horse. As usual, Chuck dug up plenty of new information to chronicle a life story well worth telling." —Mike Cox, author of Wearing the Cinco Peso: The Texas Rangers 1821-1900 and Time of the Rangers: The Texas Rangers 1900-Present
"Within the circle of historical writers on outlaws and lawmen, Chuck Parsons holds an honored place. He has brought to life a biography filled with historical drama: chasing bandits, corralling feudists and lynchers, engaging in shootouts, and doing detective work in murder cases." —Harold J. Weiss, Jr., author of Yours to Command: The Life and Legend of Texas Ranger Captain Bill McDonald
About the Author
CHUCK PARSONS is the author of Captain John R. Hughes: Lone Star Ranger (winner of the WWHA Best Book Award); The Sutton-Taylor Feud; Captain Jack Helm; John B. Armstrong: Texas Ranger, Pioneer Rancher; and Captain L. H. McNelly. He is also co-author of A Lawless Breed: John Wesley Hardin, Texas Reconstruction, and Violence in the Wild West and Texas Ranger N. O. Reynolds. He lives in Luling, Texas.