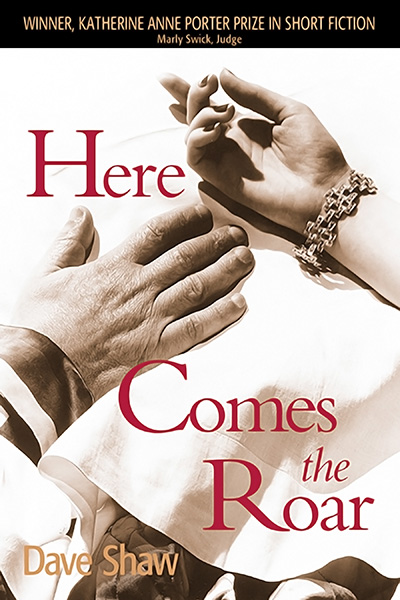 Here Comes the Roar
Winner of the Katherine Anne Porter Prize in Short Fiction, 2003
About Shaw's Here Comes the Roar
The moon might really be a UFO. Someone you know has just stopped air traffic on the entire East Coast. And those Air Force fighter jets won't stop crashing into that canyon.
Welcome to Here Comes the Roar, Dave Shaw's inventive and magical collection of events in the aftermath of attraction. These are the stories after the love stories, when worlds collapse and grow again around the wreckage and unforeseen consequences of passion. The men and women in this prize-winning collection go fishing with an anarchist lost in time, trespass on an Air Force base in their underwear, and face all manner of travails. Most, somehow, emerge the better for their battles, even though nobody has quite managed to eject in time.
The three stories and short novel in Here Comes the Roar blend imagination and humor for readers in search of something bold.
"A captivatingly innovative collection of stories that lingers in the mind." —Marly Swick, Judge
Winner of the Katherine Anne Porter Prize in Short Fiction. The Katherine Anne Porter Prize in Short Fiction is awarded annually to a collection of short-shorts, short stories, or a novella. The winner receives $1,000 and publication by the University of North Texas Press. Selection is made by an eminent writer.
Out of Print.
About the Author
DAVE SHAW holds an MFA in fiction writing from University of North Carolina at Greensboro. His stories have won several awards and have been published in such periodicals as Stand and The Southern Anthology. He resides in Chapel Hill, North Carolina.