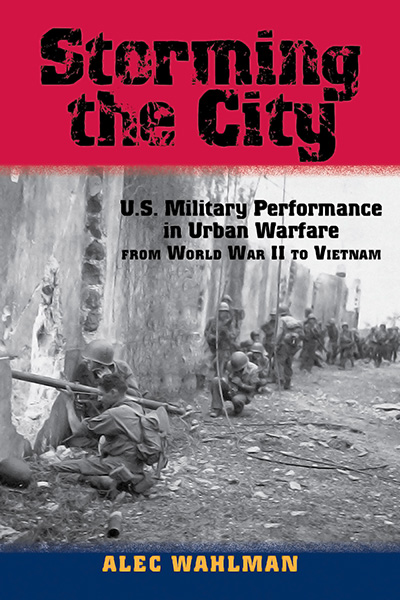 Storming the City: U.S. Military Performance in Urban Warfare from World War II to Vietnam
Selected for Marine Commandant's Professional Reading List for all senior enlisted men and all Majors and Lieutenant-Colonels, 2017

History/Military Book Club Selection, 2015
22 b&w photos. 8 maps. Notes. Bib. Index.
Features
About Wahlman's Storming the City
In an increasingly urbanized world, urban terrain has become a greater factor in military operations. Simultaneously, advances in military technology have given military forces sharply increased capabilities. The conflict comes from how urban terrain can negate or degrade many of those increased capabilities. What happens when advanced weapons are used in a close-range urban fight with an abundance of cover?
Storming the City explores these issues by analyzing the performance of the US Army and US Marine Corps in urban combat in four major urban battles of the mid-twentieth century (Aachen 1944, Manila 1945, Seoul 1950, and Hue 1968). Alec Wahlman assesses each battle using a similar framework of capability categories, and separate chapters address urban warfare in American military thought.
In the four battles, across a wide range of conditions, American forces were ultimately successful in capturing each city because of two factors: transferable competence and battlefield adaptation. The preparations US forces made for warfare writ large proved generally applicable to urban warfare. Battlefield adaptation, a strong suit of American forces, filled in where those overall preparations for combat needed fine tuning. From World War Two to Vietnam, however, there was a gradual reduction in tactical performance in the four battles.
"This is a very serious and well executed work. The quantity of knowledge packed into these pages is immense, with conclusions closely tied to the declared purposes of this study and strongly supported by abundant evidence; this book has real value." —Anthony James Joes, Saint Joseph's University, author of Resisting Rebellion and Victorious Insurgencies
About the Author
ALEC WAHLMAN has been an analyst for fourteen years at the Institute for Defense Analyses, a Federally Funded Research and Development Center that works primarily with the Department of Defense. He earned his Ph.D. in military history from the University of Leeds (UK) and lives in Falls Church, Virginia.