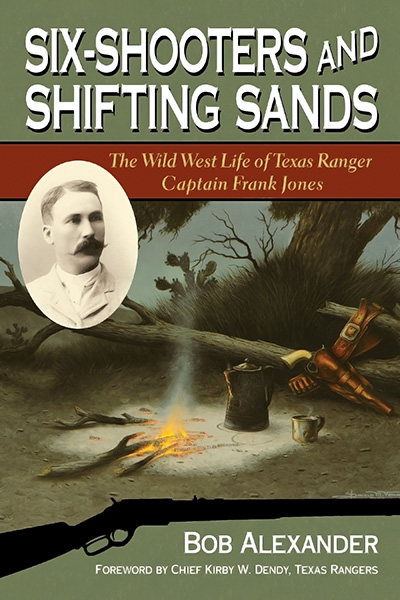 Six-Shooters and Shifting Sands: The Wild West Life of Texas Ranger Captain Frank Jones
Contributors: Foreword by Chief Kirby W. Dendy, Texas Rangers
100 b&w photos. Notes. Bib. Index.
Features
About Alexander's Six-Shooters and Shifting Sands
Many well-read students, historians, and loyal aficionados of Texas Ranger lore know the name of Texas Ranger Captain Frank Jones (1856-1893), who died on the Texas-Mexico border in a shootout with Mexican rustlers. In Six-Shooters and Shifting Sands, Bob Alexander has now penned the first full-length biography of this important nineteenth-century Texas Ranger.
At an early age Frank Jones, a native Texan, would become a Frontier Battalion era Ranger. His enlistment with the Rangers coincided with their transition from Indian fighters to lawmen. While serving in the Frontier Battalion officers' corps of Company D, Frank Jones supervised three of the four "great" captains of that era: J.A. Brooks, John H. Rogers, and John R. Hughes. Besides Austin Ira Aten and his younger brothers Calvin Grant Aten and Edwin Dunlap Aten, Captain Jones also managed law enforcement activities of numerous other noteworthy Rangers, such as Philip Cuney "P.C." Baird, Benjamin Dennis Lindsey, Bazzell Lamar "Baz" Outlaw, J. Walter Durbin, Jim King, Frank Schmid, and Charley Fusselman, to name just a few.
Frank Jones' law enforcing life was anything but boring. Not only would he find himself dodging bullets and returning fire, but those Rangers under his supervision would also experience gunplay. Of all the Texas Ranger companies, Company D contributed the highest number of on-duty deaths within Texas Ranger ranks.
"For those fascinated by the Old West, this book is the true story." —Rick Miller, author of award-winning Texas Ranger John B. Jones and the Frontier Battalion, 1874-1881
"A retired federal agent-turned-writer, Alexander knows cops–old-school or modern–and he knows how to find information. This is a solid book that will appeal to any fan of Wild West history." —True West
"Bob does not present a personal agenda or make predisposed statements by shading his canvas in tones most aligned with individual preferences, unless one would consider truth and objectivity as the focus of that work. Because that's exactly what I've seen in every book I've read that Bob Alexander has written: an unbiased and factual treatment based on incredibly detailed references." —Chief Kirby W. Dendy, Texas Rangers
"I've long wanted to read a biography of Texas Ranger Captain Frank Jones. Now Bob Alexander, utilizing his background in law enforcement and his gifts as a storyteller, has crafted a superb account of the heroic, doomed lawman, told against the rugged backdrop of Ranger actions on the Texas frontier." —Bill O'Neal, State Historian of Texas and author of The Johnson-Sims Feud
"Once again exceptional historian and story teller Bob Alexander has delved into the forgotten archives and emerged with Texas Ranger Frank Jones who mentored such great Rangers as Ira Aten and John R. Hughes. This is an unvarnished view of a man who rightfully should be one of the great captains of Ranger history. Largely ignored, Jones deserved far better. With Alexander's compelling work, now he has it." —David Johnson, author of John Ringo, King of the Cowboys and The Mason County "Hoo Doo" War, 1874-1902
About the Author
BOB ALEXANDER is the co-author of Texas Rangers and author of Rawhide Ranger, Ira Aten; Whiskey River Ranger; Six-Shooters and Shifting Sands; Bad Company and Burnt Powder; Riding Lucifer's Line; and Winchester Warriors, all published by UNT Press. He lives in Maypearl, Texas.