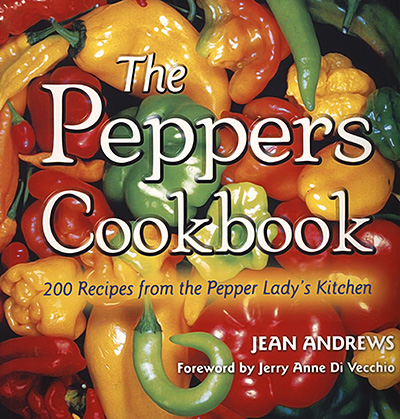 The Peppers Cookbook: 200 Recipes from the Pepper Lady's Kitchen
Contributors: Foreword by Jerry Anne Di Vecchio
35 illus. App. Bib.
Features
About Andrews's The Peppers Cookbook
Award-winner Jean Andrews has been called "the first lady of chili peppers" and her own registered trademark, "The Pepper Lady." She now follows up on the success of her earlier books, Peppers: The Domesticated Capsicums and The Pepper Trail, with a new collection of more than two hundred recipes for pepper lovers everywhere. Andrews begins with how to select peppers (with an illustrated glossary provided), how to store and peel them, and how to utilize various cooking techniques to unlock their flavors. A chapter on some typical ingredients that are used in pepper recipes will be a boon for the harried cook. The Peppers Cookbook also features a section on nutrition and two indexes, one by recipe and one by pepper type, for those searching for a recipe to use specific peppers found in the market.
The majority of the book contains new recipes along with the best recipes from her award-winning Pepper Trail book. The mouth-watering recipes herein range from appetizers to main courses, sauces, and desserts, including Roasted Red Pepper Dip, Creamy Pepper and Tomato Soup, Jicama and Pepper Salad, Chipotle-Portabella Tartlets, Green Corn Tamale Pie, Anatolian Stew, South Texas Turkey with Tamale Dressing, Shrimp Amal, Couscous-Stuffed Eggplant, and Creamy Serrano Dressing.
"This is a fun cookbook—many of the recipes look quite tantalizing. One of its strengths is the section explaining how to handle, store, peel, and cook peppers, all very helpful information." —William Woys Weaver, winner of three Julia Child Cookbook Awards
"Peppers and Jean Andrews were made for each other. It's wonderful to have this expansive collection of recipes that use peppers for their unique personalities—by variety, by flavor, by color—to create delectable dishes and wonderful meals." —from the foreword by Jerry Anne Di Vecchio
From savory sweet to extreme heat!
About the Author
Known internationally as the "Pepper Lady" since the publication of her book Peppers: The Domesticated Capsicums, JEAN ANDREWS was a distinguished alumna from the University of North Texas, where she received her Ph.D., and from the University of Texas at Austin where she received a B.S. and was also named to the Hall of Honor of the College of Natural Sciences. Named to Who's Who in Food and Wine in Texas, Andrews was the author and illustrator of thirteen books, as well as numerous articles on peppers, wildflowers and shells.