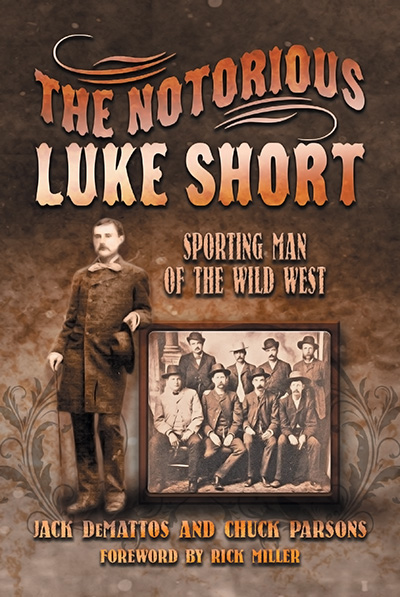 The Notorious Luke Short: Sporting Man of the Wild West
Contributors: Foreword by Rick Miller
Co-Founders Best Book Award from Westerners International, September 2016
55 b&w photos. Notes. Bib. Index.
Features
About DeMattos and Parsons's The Notorious Luke Short
Luke Short perfected his skills as a gambler in locations that included Leadville, Tombstone, Dodge City, and Fort Worth. In 1883, in what became known as the "Dodge City War," he banded together with Wyatt Earp, Bat Masterson, and others to protect his ownership interests in the Long Branch Saloon—an event commemorated by the famous "Dodge City Peace Commission" photograph.
During his lifetime, Luke Short became one of the best known sporting men in the United States, and one of the wealthiest. The irony is that Luke Short is best remembered for being the winning gunfighter in two of the most celebrated showdowns in Old West history: the shootout with Charlie Storms in Tombstone, Arizona, and the showdown against Jim Courtright in Fort Worth, Texas. He would have hated that.
"Fans of authentic Wild West history will leap at the opportunity to purchase the first authentic account of this legendary character." —Robert K. DeArment, author of Bat Masterson
"The authors provide a fine account of a man who, though small in stature, had the grit expected of a frontiersman, and who, though with flaws, stood up for his principles. In his major physical encounters, in which his life was on the line, he was defending himself and was not the aggressor. Beyond handiness with a six-shooter, Luke Short more correctly was a prominent 'sporting man,' ultimately earning wealth through legitimate gambling activities. This biography gives Luke Short the complete, definitive inspection as a whole man that he deserves and finally sets the record straight." —Rick Miller, author of award-winning Texas Ranger John B. Jones and the Frontier Battalion, 1874-1881
"Parsons is an impeccable researcher and DeMattos has an excellent track record as a Western historian. The Notorious Luke Short contains wonderful new information on Luke Short that William Cox did not have when he wrote his Short biography in 1961." —Richard F. Selcer, author of Hell's Half Acre and co-author of Written in Blood
About the Authors
JACK DeMATTOS is the author of seven books on western gunfighters, including The Notorious Luke Short co-authored with Chuck Parsons. He lives in North Attleboro, Massachusetts.
CHUCK PARSONS is the author of Captain John R. Hughes: Lone Star Ranger (winner of the WWHA Best Book Award); The Sutton-Taylor Feud; Captain Jack Helm; John B. Armstrong: Texas Ranger, Pioneer Rancher; and Captain L. H. McNelly. He is also co-author of A Lawless Breed: John Wesley Hardin, Texas Reconstruction, and Violence in the Wild West and Texas Ranger N. O. Reynolds. He lives in Luling, Texas.