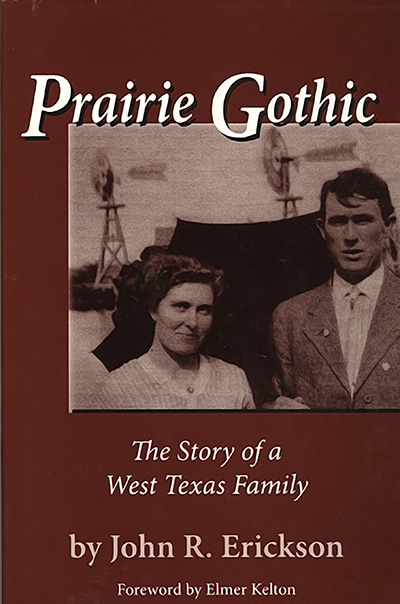 Prairie Gothic: The Story of a West Texas Family
Contributors: Foreword by Elmer Kelton
September, 2005
Published
48 illus. Notes. Bib. Index.
Features
About Erickson's Prairie Gothic
Prairie Gothic is rich in Texas history. It is the story of Erickson's family, ordinary people who, through strength of character, found dignity in the challenges presented by nature and human nature. It is also the story of the place instrumental in shaping their lives the flatland prairie of northwestern Texas that has gone by various names (High Plains, South Plains, Staked Plains, and Llano Estacado), as well as the rugged country on its eastern boundary, often referred to as the caprock canyonlands.
One branch of Erickson's family arrived in Texas in 1858, settling in Parker County, west of Weatherford. Another helped establish the first community on the South Plains, the Quaker colony of Estacado. They crossed paths with numerous prominent people in Texas history: Sam Houston, Sul Ross, Charles Goodnight, Cynthia Ann and Quanah Parker, Jim Loving, and a famous outlaw, Tom Ross.
Erickson's research took him into the homes of well-known Texas authors, such as J. Evetts Haley and John Graves. Graves had written about the death of Erickson's great-great grandmother, Martha Sherman. The theme that runs throughout the book is that of family, of four generations' efforts to nurture the values of civilized people: reverence of the written word, honesty, godliness, thrift, and personal relationship. It is the story of pioneer women and their struggles to keep their families together; it is the story of cowboys, outlaws, and Indian raids, told against the background of a harsh environment of droughts, blizzards, and rattlesnakes; and it is universal. Erickson has created a fascinating blend of family and regional history.
"Erickson has given us a vivid and well-rounded picture of several generations in a pioneer family. He has a smooth writing style, offers sharp and clean images, and his prose often has a poetic quality." —Elmer Kelton, author over forty books, including The Good Old Boys and The Day the Cowboys Quit
About the Author
JOHN R. ERICKSON, a fifth-generation Texan, was born and raised in the Texas Panhandle. In 1982 Erickson launched the Hank the Cowdog series, with sales well over seven million copies and counting. He is the author of Prairie Gothic, The Modern Cowboy, Catch Rope, LZ Cowboy, Panhandle Cowboy, Some Babies Grow Up to Be Cowboys, and Friends, all published by the University of North Texas Press.