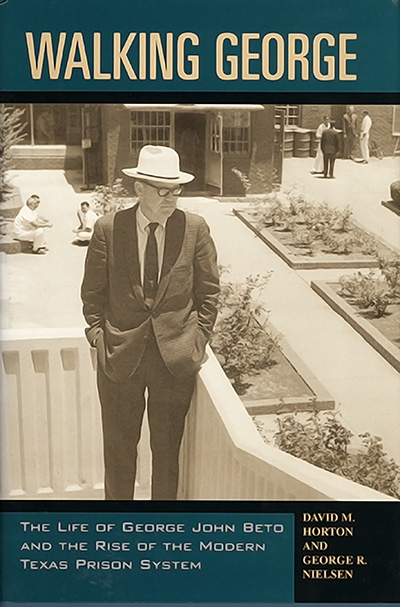 Walking George: The Life of George John Beto and the Rise of the Modern Texas Prison System
Award of Commendation from the Concordia Historical Institute, 2006
September, 2005
Published
25 illus. Notes. Bib. Index.
Features
Recommended Text
Ideal for Classrooms
About Horton and Nielsen's Walking George
George John Beto (1916-1991) is best known for his contributions to criminal justice, but his fame is not limited to this field. Walking George, authored by two of his former students, David M. Horton and George R. Nielsen, examines the entire life of Beto and his many achievements in the fields of both education and criminal justice—and how he wedded the two whenever possible.
Beto initially studied to become a Lutheran pastor but instead was called to teach at Concordia Lutheran College in Austin, Texas. During his twenty years at that institution he became its president, expanded it into a junior college, racially integrated it, made it co-educational, and expanded its facilities. His successes convinced the administrators of the church to present him with a challenge to revitalize a seminary in Springfield, Illinois. He accepted the challenge in 1959, but after three years of progress, he left the seminary to become the head of the Texas Department of Corrections.
Although Beto had no real academic training in corrections and had never served in any administrative position in corrections, he had learned incidentally. During his last six years in Austin, he had served on the Texas Prison Board, a volunteer board that supervised the entire prison system. As a board member he established one of the earliest General Education Development testing programs for prisoners. Fortuitously, his years on the board came during the time when reform of the Texas prisons was the watchword.
During his ten-year term as the director of the Texas Department of Corrections, Beto continued the reform program. Most notable were his efforts at rehabilitation of the inmates and his attempt at refining a method of managing prisoners, called the Texas Control Model. He persuaded the Texas state legislature to enact a law requiring state agencies to purchase manufactured goods from state prisons, which tremendously expanded industry and training for inmates. In 1969, at Beto's urging, the Windham school district for educating inmates became a reality, the first of its kind at any prison in the United States.
Beto's predilection to show up on foot in front of a given Texas prison, at all hours of the day and night, ready for an inspection and tour, earned him the nickname Walking George. After retiring as head of the Texas prison system in 1972, he became a professor at Sam Houston State University's College of Criminal Justice until 1991. His leadership and participation propelled it to become the most esteemed program in the country.
Beto's personal force and unique accomplishments defined him as one of the premier American penologists of the twentieth century. This is the first in-depth biography of the man and his contributions.
"Few life histories are as meticulously researched and as scrupulously compiled as this biography of George Beto, which accurately depicts him as the dedicated educator, pastor, and correctional icon he was." —Hans Toch, Distinguished Professor, SUNY at Albany
"Without question, George Beto had a profound impact on our nation's criminal justice system. With an unusual background in both theology and education, he brought a unique perspective to the field of corrections. Among his strengths was the ability to bridge the gap between academia and the realities of prison administration. His greatest legacy, however, are the many individuals whose lives he influenced, both those who worked and studied under him as well as those confined to his custody." —Norman A. Carlson, Director (Retired) Federal Bureau of Prisons
"This book does a wonderful job of reliving the life of George Beto—a gifted educator, a fabled prison administrator, and a truly wise human being. A living legend in his time, he was one of a kind both in vision and compassion. His life is well worth immortalizing." —Rolando V. del Carmen, Distinguished Professor of Criminal Justice, George J. Beto Criminal Justice Center, Sam Houston State University
"'Walking George' Beto is one of the most colorful and consequential figures, not only in the history of prison administration, but in the entire annals of American public administration. With uncommon common sense, this progressive educator and ordained minister turned corrections chief preached leadership ideas and practiced management skills that they didn't even start teaching at top professional schools until decades after he retired. This book tells the tale of a civic-minded man who brought his religious convictions to bear on the criminal justice system in ways that improved the field." —John DiIulio, author of Governing Prisons
"Horton and Nielsen have done a superb job presenting George Beto's significant accomplishments, revealing his faith, insights, abilities, care for all others, and his ever present sense of humor." —Les Bayer, former college administrator, Concordia College
Classroom Adoption
Walking George: The Life of George John Beto and the Rise of the Modern Texas Prison System is a recommended text for use in classrooms where the following subjects are being studied: Criminal Justice.
Walking George examines the entire life of George John Beto (1916-1991) and his many achievements in the fields of both education and criminal justice. During his ten-year term as the director of the Texas Department of Corrections, Beto spearheaded many education and reform programs aimed at rehabilitating inmates, such as the Windham school district for educating inmates, the first of its kind at any prison in the United States.
Adopted By
["University of North Texas for "Administration of Criminal Justice Agencies""]
About the Authors
DAVID M. HORTON is professor and director of the Criminal Justice Program at St. Edward's University, Austin, Texas. He obtained his doctor of philosophy degree in criminal justice from the Institute of Contemporary Corrections and Behavioral Sciences (now the George J. Beto Center for Criminal Justice) at Sam Houston State University in Huntsville, Texas, where he studied under Dr. Beto. He is the coauthor of Lone Star Justice: The Texas Criminal Justice System.
GEORGE R. NIELSEN spent his entire career teaching in Lutheran schools, first in Houston and then, from 1959 to 1997, at Concordia University in River Forest, Illinois. His most recent book, Johann Kilian, Pastor, is a biography of the pastor of the Wends at Serbin, Texas. In 1995 Concordia University named him Distinguished Professor of History. He is now retired, living in the Black Hills of South Dakota.