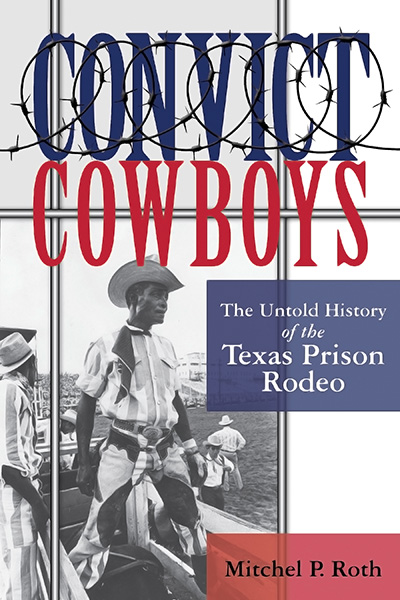 Convict Cowboys: The Untold History of the Texas Prison Rodeo
50 b&w photos. Notes. Bib. Index.
Features
About Roth's Convict Cowboys
Listen to an interview on the podcast New Books in History with Mitchel P. Roth, author of Convict Cowboys: The Untold History of the Texas Prison Rodeo.
---
Mitchel Roth talks to Houston Public Radio about the history of the Texas Prison Rodeo.
---
Convict Cowboys is the first book on the nation's first prison rodeo, which ran from 1931 to 1986. At its apogee the Texas Prison Rodeo drew 30,000 spectators on October Sundays. Mitchel P. Roth portrays the Texas Prison Rodeo against a backdrop of Texas history, covering the history of rodeo, the prison system, and convict leasing, as well as important figures in Texas penology including Marshall Lee Simmons, O.B. Ellis, and George J. Beto, and the changing prison demimonde.
Over the years the rodeo arena not only boasted death-defying entertainment that would make professional cowboys think twice, but featured a virtual who's who of American popular culture. Readers will be treated to stories about numerous American and Texas folk heroes, including Western film stars ranging from Tom Mix to John Wayne, and music legends such as Johnny Cash and Willie Nelson. Through extensive archival research Roth introduces readers to the convict cowboys in both the rodeo arena and behind prison walls, giving voice to a legion of previously forgotten inmate cowboys who risked life and limb for a few dollars and the applause of free-world crowds.
"Professor Roth finally wrote the book that those interested in the history of Texas generally, and the Texas prison system in specific, have wanted for years." —–Chad Trulson, co-author of First Available Cell: Desegregation of the Texas Prison System
About the Author
MITCHEL P. ROTH received the Ph.D. in history from the University of California, Santa Barbara, in 1993 and is currently professor of criminal justice at Sam Houston State University in Huntsville, Texas. He has written extensively about the history of crime and punishment and was selected by the Texas Department of Public Safety to write its history and update it three times over the past fifteen years. His books include The Encyclopedia of War Journalism, Convict Cowboys: The Untold History of the Texas Prison Rodeo, Crime and Punishment: A History of the Criminal Justice System, Historical Dictionary of Law Enforcement, Houston Blue: The Story of the Houston Police Department, and Man with the Killer Smile: The Life and Crimes of a Serial Mass Murderer.