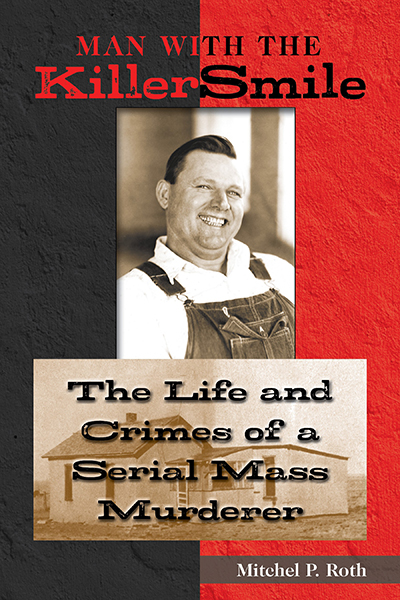 Man with the Killer Smile
About Roth's Man with the Killer Smile
On a cold, windy December night in 1926, hell was unleashed on a tenant farm near Farwell, the last Texas town before the New Mexico border. Prone to the bottle and fits of rage, the burly man with the smiling blue eyes was in no mood to quarrel with his third wife over his bootleg whisky and sexual abuse of his stepdaughter. He went from room to room in the house, killing his wife and each child with primitive cutting tools and his bare hands. By the time he concluded his bloody work, he had taken the lives of nine family members ranging in age from 2 to 41, committing what one local reporter called "the blackest crime" in the history of the West Texas Panhandle.
Husband, father, uncle, embezzler, serial mass murderer, philanderer, child molester, convict, and military deserter, George Jefferson Hassell was many things to many people, most of them bad. His pattern of familicide crime had begun in 1917, when he slaughtered his common-law wife and her three kids in Whittier, California. Later, in Texas, he married his brother's wife and became stepfather to her eight children.
Using Hassell's confessions and his many interviews with reporters as well as the trial transcripts and reminiscences of those who crossed paths with him in Texas, Oklahoma, and California, Mitchel P. Roth presents the first comprehensive account of the life and crimes of one of the least known multiple murderers in Texas, let alone American, history. Roth situates Hassell's saga within the 1920s Texas criminal justice system, including the death penalty, which Hassell ultimately received from Old Sparky, the electric chair at Huntsville.
About the Author
MITCHEL P. ROTH received the Ph.D. in history from the University of California, Santa Barbara, in 1993 and is currently professor of criminal justice at Sam Houston State University in Huntsville, Texas. He has written extensively about the history of crime and punishment and was selected by the Texas Department of Public Safety to write its history and update it three times over the past fifteen years. His books include The Encyclopedia of War Journalism, Convict Cowboys: The Untold History of the Texas Prison Rodeo, Crime and Punishment: A History of the Criminal Justice System, Historical Dictionary of Law Enforcement, Houston Blue: The Story of the Houston Police Department, and Man with the Killer Smile: The Life and Crimes of a Serial Mass Murderer.