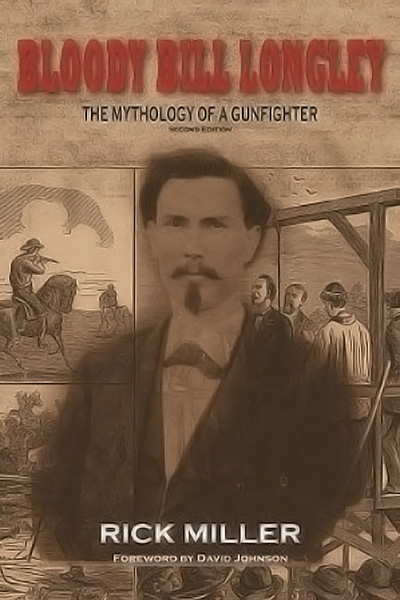 Bloody Bill Longley: The Mythology of a Gunfighter, Second Edition
About Miller's Bloody Bill Longley
William Preston "Bill" Longley (1851-1878), though born into a strong Christian family, turned bad during Reconstruction in Texas, much like other young boys of that time, including the deadly John Wesley Hardin. He went on a murderous rampage over the last few years of his life, shotgunning Wilson Anderson in retribution for Anderson's killing of a relative; killing George Thomas in McLennan County; and shooting William "Lou" Shroyer in a running gunfight. Longley even killed the Reverend William R. Lay while Lay was milking a cow. Once he was arrested in 1877, and subsequently sentenced to hang, his name became known statewide as an outlaw and a murderer. Through a series of "autobiographical" letters written from jail while awaiting the hangman, Longley created and reveled in his self-centered image as a fearsome, deadly gunfighter—the equal, if not the superior, of the vaunted Hardin.
Declaring himself the "worst outlaw" in Texas, the story that he created became the basis for his historical legacy, unfortunately relied on and repeated over and over by previous biographers, but all wrong. In truth, Bill Longley was not the daring figure that he attempted to paint. Rick Miller's thorough research shows that he was, instead, a braggart who exaggerated greatly his feats as a gunman. The murders that could be credited to him were generally nothing more than cowardly assassinations.
Bloody Bill Longley was first published in a limited edition in 1996. In essence, it is a detective story, attempting to prove or disprove Longley's many claims of bloodshed by separating fact from fancy, based as much as possible on primary sources. Since the time of the first edition, diligent research has located and identified the outlaw's body, the absence of which was a longstanding myth in itself. This revised edition includes that part of the Longley story, as well as several new items of information that have since come to light. Fond of alias names and expert at avoiding the law, Longley's biography is at last as fully and accurately told as possible, finally putting to rest the multitude of myths and legends that he created in his lifetime.
"Rick Miller's research has always been excellent. As a policeman, attorney, and longtime county judge, Rick knows how and where to dig. Longley's hanging had a grisly twist, and rumors persisted that through a ruse Longley escaped death. Rick has addressed this common theme with fresh research about Longley's end and burial. I found it interesting and persuasive." —Bill O'Neal, author of The Johnson-Sims Feud and The Johnson County War
"Miller has gathered together an unbelievable amount of information on Longley, his family, and his times. His military experiences have never before been discussed in any detail… . Longley was not a noble character but certainly was an interesting one. Miller does not attempt to glorify his deeds but presents his biography-history without sermonizing… . For the outlaw-lawman buff, this work is a must." —Chuck Parsons, NOLA Quarterly
"[It] has an honored place on my bookshelf. It remains the only decent treatment of this important gunfighter." —Robert DeArment, author of Bat Masterson
"Penning reports of a hanging—or lynching—frontier era newsmen would frequently eulogize an unlucky fella had been 'jerked to Jesus.' It is doubtful William Preston Longley received such a cordial reception to the hereafter. Author Miller's masterfully researched study divulges why. Delving into arcane source materials, both primary and secondary, Rick Miller adroitly debunks legend, stripping "Bloody Bill" of exaggeration, and exposing a ne'er-do-well gunman who scoffed at Godliness, almost until the bitter end." —Bob Alexander, author of Winchester Warriors
About the Author
RICK MILLER is the author of Bloody Bill Longley: The Mythology of a Gunfighter (UNT Press). He has also written biographies of Sam Bass (Sam Bass & Gang), Jack Duncan (Bounty Hunter), and Eugene Bunch (The Train Robbing Bunch). Raised in Dallas, Texas, Miller is a former paratrooper with the 82nd Airborne Division, and served in law enforcement as a Dallas policeman, as well as chief of police in both Killeen and Denton, Texas. Currently he is the elected County Attorney of Bell County, Texas. He holds a bachelor of arts from the University of Texas at Arlington, a master's degree in public administration from Southern Methodist University, and earned his juris doctorate at Baylor University School of Law. He lives in Harker Heights, Texas.