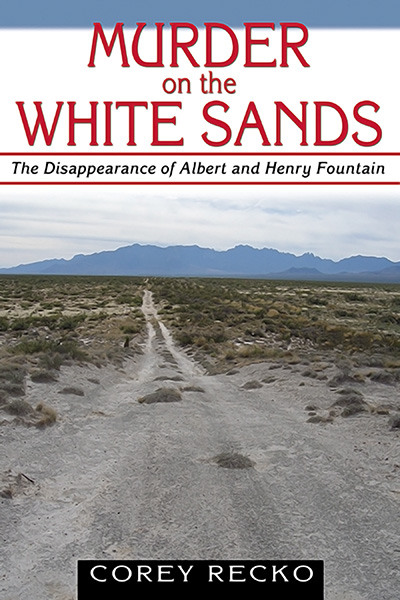 Murder on the White Sands: The Disappearance of Albert and Henry Fountain
Best Book of the Year, Wild West Historical Association, 2008
32 b&w illus. 1 map. Notes. Bib. Index.
Features
About Recko's Murder on the White Sands
On a cold February evening in 1896, prominent attorney Col. Albert Jennings Fountain and his eight-year-old son Henry disappeared near the White Sands of New Mexico. The governor called in both the Pinkerton Agency and Pat Garrett, killer of Billy the Kid, to investigate. The evidence pointed at three men, former deputies William McNew, James Gililland, and Oliver Lee. These three men, however, were very close to powerful ex-judge, lawyer, and politician Albert B. Fall, said by some to be the mastermind behind the plot to kill Fountain.
During the trial, Albert Fall defended the accused men. Missing witnesses plagued the prosecution, and armed supporters of the defendants packed the courtroom, intimidating others. The verdict: not guilty. The bodies of Albert Fountain and his young son Henry still lie in an unmarked grave, the location of which remains a mystery. Corey Recko tells for the first time the complete story of the Fountains and, through extensive research, reconstructs what really happened to them and who the likely killers were.
"This is the 'ultimate' Pat Garrett/A.J. Fountain, West Texas/Southern New Mexico book. I have never seen such a beautifully researched piece. This is the kind of book I wish I had written." —Leon Metz, author of Pat Garrett and John Wesley Hardin
"This is the most comprehensive examination of all the evidence I've ever seen." —Frederick Nolan, author of The Lincoln County War and The West of Billy the Kid
"Recko is to be commended for drawing his information almost entirely from primary sources, using secondary sources sparingly. He brings together for the first time all the available information on the subject, and in a final chapter provides his conclusions with regard to the affair." —Robert K. DeArment, author of Bat Masterson and editor of Life of the Marlows
"The story moves along like detective fiction, with chapters on the various aspects of the murders, investigation and trial… [T]his is the most comprehensive treatment of the disappearance of the Fountains, still a topic of speculation to this day." —New Mexico Magazine
About the Author
COREY RECKO is an avid reader of history with an extensive knowledge of late nineteenth-century New Mexico. His interest in the Fountain case led to six years of research and writing. He lives in Lakewood, Ohio. For more information about the book and its author, visit www.coreyrecko.com.