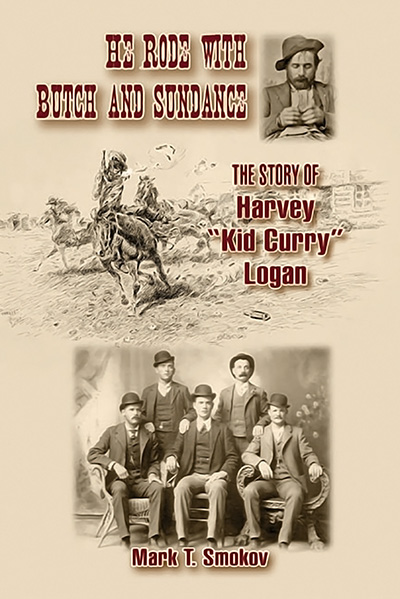 He Rode with Butch and Sundance: The Story of Harvey "Kid Curry" Logan
50 b&w photos. Map. Notes. Bib. Index.
Features
About Smokov's He Rode with Butch and Sundance
Pinned down by a posse, the wounded outlaw's companions urged him to escape through the gulch. "Don't wait for me," he replied, "I'm all in and might as well end it right here." Placing his revolver to his right temple, he pulled the trigger for the last time, thus ending the life of the notorious "Kid Curry" of the Wild Bunch.
It is long past time for the publication of a well-researched, definitive biography of the infamous western outlaw Harvey Alexander Logan, better known by his alias Kid Curry. He spent his formative years near Kansas City, Missouri, and came west with his older brother to become a cowboy. A violent conflict with a ranching neighbor in Montana caused him to flee to the Hole-in-the-Wall valley in Wyoming, where he became involved in rustling and eventually graduated to bank and train robbing as a member—and soon leader—of the Wild Bunch. This outlaw group was a melding of the best of the Hole-in-the-Wall gang and Butch Cassidy's Powder Springs gang, from the area where the borders of Utah, Colorado, and Wyoming meet. The core members of the gang came to be Butch Cassidy, the Sundance Kid, George "Flatnose" Currie, Elzy Lay, Ben "the Tall Texan" Kilpatrick, Will Carver, and Kid Curry.
Kid Curry has been portrayed as a cold-blooded killer, without any compassion or conscience and possessed of limited intelligence. Curry indeed was a dangerous man with a violent temperament, which was aggravated by alcoholic drink. When he felt taken advantage of or was threatened with losing his freedom, he didn't hesitate to use force to defend himself by ambushing a posse or shooting at policemen. However, Mark T. Smokov shows that Curry's record of kills is highly exaggerated, and that he was not the bloodthirsty killer that many have claimed. In fact, when he was brought to trial, he was charged (and convicted) with forging and passing stolen banknotes, instead of murder or even train robbery, due to lack of evidence for the many murders attributed to him.
Smokov has researched extensively in areas significant to Curry's story (Hole-in-the-Wall, Brown's Park, the Little Rockies), talking to local ranchers and townspeople, visiting museums, and collecting pertinent material and photographs. He corrects the many false statements that have been written about Curry in the past, presenting a much more accurate and balanced account of his life. Curry was a cunning outlaw who planned and executed robberies on par with anything Butch Cassidy is reported to have pulled off. Smokov contends that Curry was the actual train robbing leader of the Wild Bunch—there is no concrete evidence that Cassidy ever robbed a train. He also presents new evidence that is virtually conclusive in resolving whether or not Curry was the "unknown bandit" who killed himself after robbing a train near Parachute, Colorado, in 1904.
"[A] rock-solid recreation of Old West grit and Gunsmoke… Smokov—noting that Logan was not dull-witted, as usually depicted—examines and dissects numerous conflicting sources throughout this well-researched biography… Exploring archives and court records, Smokov shows how writers have embellished the Kid Curry legend, and he successfully separates raw reality from myth and speculation in this definitive profile of a cunning criminal." —Publishers Weekly
"Mark Smokov's new book on Harvey Logan is a significant contribution to Wild Bunch history. It is full of both primary and secondary sources which Smokov has used to fill out the life of one of the Old West's deadliest outlaws. I highly recommend it to those who are interested in both a good read and good research." —Donna B. Ernst, author of The Sundance Kid: The Life of Harry Alonzo Longabaugh
"Smokov's biography is well organized and displays an admirable command of the literature. He has traveled to many of the locations of key events in the Logan story for a first-hand look. His treatment of the controversy over whether Logan died after an unsuccessful train holdup in Colorado in 1904 is excellent—I agree with his conclusion." —Daniel Buck, Wild Bunch historian
"Harvey 'Kid Curry' Logan continues to fascinate historians, partly because of ongoing attempts to unravel fact from fiction about his life, and partly because of the need to do the same about his death. This is the most valiant attempt to date to piece together a coherent account of the outlaw's life. Mark Smokov doesn't duck the difficult questions of conflicting evidence regarding Logan's activities, nor does he rush to judgment and lay every alleged crime to have been committed by Logan at his door. He is fair and balanced in his analysis of previous research, giving full credit where it is due while pointing out the myths and legends that still pepper popular accounts of Logan's life and death." —Mike Bell, author of Incidents on Owl Creek
About the Author
MARK T. SMOKOV is the author of several articles on Kid Curry and other western outlaws. He has written for the WWHA Journal, the NOLA Quarterly, the WOLA Journal, Wild West magazine, and the Tombstone Epitaph. He is a life-long resident of Seattle, Washington, and a graduate of the University of Washington.