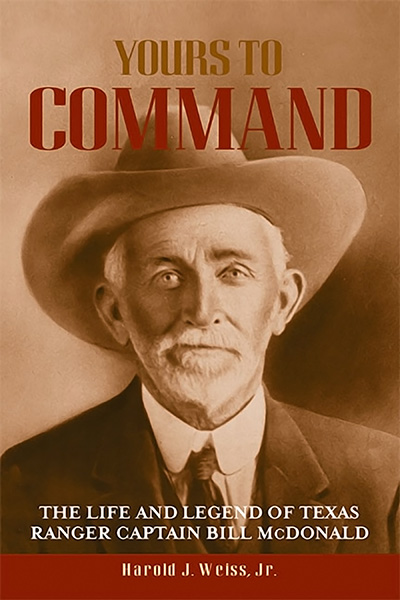 Yours to Command: The Life and Legend of Texas Ranger Captain Bill McDonald
34 b&w illus. 7 maps. Notes. Bib. Index.
Features
About Weiss's Yours to Command
Captain Bill McDonald (1852-1918) is the most prominent of the "Four Great Captains" of Texas Ranger history. His career straddled the changing scene from the nineteenth to the twentieth centuries. In 1891 McDonald became captain of Company B of the Frontier Battalion of the Texas Rangers. "Captain Bill" and the Rangers under his command took part in a number of incidents from the Panhandle region to South Texas: the Fitzsimmons-Maher prizefight in El Paso, the Wichita Falls bank robbery, the murders by the San Saba Mob, the Reese-Townsend feud at Columbus, the lynching of the Humphries clan, the Conditt family murders near Edna, the Brownsville Raid of 1906, and the shootout with Mexican Americans near Rio Grande City. In all these endeavors, only one Ranger lost his life under McDonald's command.
McDonald's reputation as a gunman rested upon his easily demonstrated markmanship, a flair for using his weapons to intimidate opponents, and the publicity given his numerous exploits. His ability to handle mobs resulted in a classic tale told around campfires: one riot, one Ranger. His admirers rank him as one of the great captains of Texas Ranger history. His detractors see him as an irresponsible lawman who accepted questionable information, precipitated violence, hungered for publicity, and related tall tales that cast himself in the hero's role. Harold J. Weiss, Jr., seeks to find the true Bill McDonald and sort fact from myth. McDonald's motto says it all: "No man in the wrong can stand up against a fellow that's in the right and keeps on a-comin'."
"Veteran Ranger readers from across the West and Southwest will thoroughly enjoy this more accurate account of McDonald's still-remarkable exploits, finally putting Bigelow Paine's 1909 work to rest. McDonald's is a great story to tell, lore and legend notwithstanding, and I believe that Harold Weiss has that story here." —Paul N. Spellman, author of Captain J. A. Brooks, Texas Ranger and Captain John H. Rogers, Texas Ranger
"Weiss' book sorts truth from legend about a man credited for one of the Rangers' prime myths, the 'One Riot, One Ranger' story." —Mike Cox, author of The Texas Rangers: Wearing the Cinco Peso, 1821-1900
"For a century historians regarded Albert Bigelow Paine's Captain Bill McDonald, Texas Ranger: A Story of Frontier Reform as the benchmark volume on this legendary lawman. Certainly, the book had a good run. Yet, in terms of research, writing, and erudition, Harold J. Weiss, Jr.'s Yours to Command: The Life and Legend of Texas Ranger Captain Bill McDonald, utterly supplants Paine." —Stephen L. Hardin, author of Texian Iliad: A Military History of the Texas Revolution and Texian Macabre: The Melancholy Tale of a Hanging in Early Houston
About the Author
HAROLD J. WEISS, JR., is Emeritus Professor of History, Government, and Criminal Justice at Jamestown Community College. He received his doctorate in history from Indiana University at Bloomington. Weiss has published numerous articles and essays on the Texas Rangers and western law and order in the Journal of the West, Southwestern Historical Quarterly, and South Texas Studies.