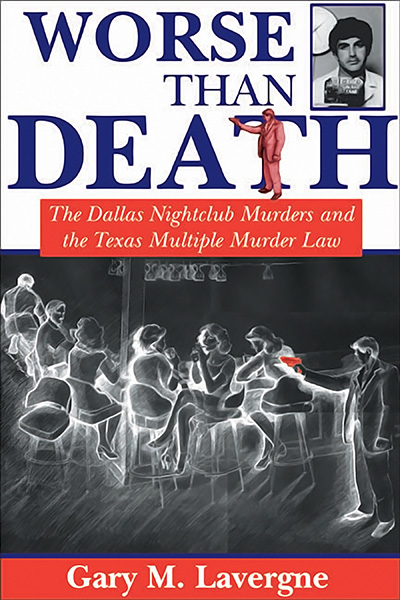 Worse Than Death: The Dallas Nightclub Murders and the Texas Multiple Murder Law
25 illus. Notes. Index.
Features
About Lavergne's Worse Than Death
In 1984, a Moroccan national named Abdelkrim Belachheb walked into Ianni's Restaurant, a trendy Dallas nightclub, and gunned down seven people. Six died. Despite the fact that the crimes occurred in a state that prides itself on being tough on criminals, the death penalty was not an option for the Belachheb jury. Even though he had committed six murders, and his guilt was never in question (despite his insanity defense), his crimes were not capital murders under 1984 statutes. As a direct result of this crime, during the 1985 regular session the Texas Legislature passed House Bill 8—the multiple murder statute—to make serial killing and mass murder capital crimes.
Belachheb's case serves as an excellent example to explore capital punishment and the insanity defense. Furthermore, Belachheb's easy entry into the United States (despite his violent record in Europe) highlights our contemporary fear over lax immigration screening and subsequent terrorism. The case is unique in that debate usually arises from an execution. Belachheb was given life imprisonment and is currently under maximum security—a fate some would argue is worse than death. He is scheduled to have his first parole hearing in 2004, the twentieth anniversary of his crime.
"This is a superbly written book about an extraordinary case whose significance ranged from influencing death penalty legislation to directly foreshadowing the types of security lapses that led to September 11th. It is among the best I have read in its genre." —Bob Brown, ABC news correspondent for 20/20
"A powerful indictment of porous policies regarding admitting dangerous criminals into the U.S.—seventeen years before 9-11." —Don Graham, author of Kings of Texas
About the Author
GARY M. LAVERGNE is Director of Admissions Research at the University of Texas at Austin. He is the author of A Sniper in the Tower: The Charles Whitman Murders and [Worse Than Death: The Dallas Nightclub Murders and the Texas Multiple Murder Law][], both published by the University of North Texas Press.
For more information on these books and the author, please visit Gary Lavergne's web site at [www.garylavergne.com][].
[Worse Than Death: The Dallas Nightclub Murders and the Texas Multiple Murder Law]: /catalog/3211 [www.garylavergne.com]: http://www.garylavergne.com/