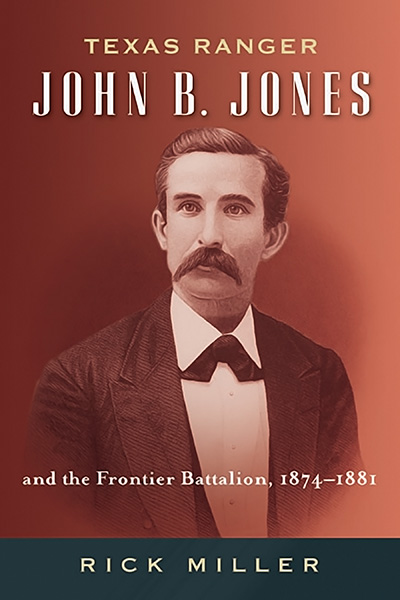 Texas Ranger John B. Jones and the Frontier Battalion, 1874-1881
Best Book Award from the Wild West History Association, 2013
38 b&w photos. Notes. Bib. Index.
Features
About Miller's Texas Ranger John B. Jones and the Frontier Battalion, 1874-1881
In 1874, the Texas legislature created the Frontier Battalion, the first formal, budgeted organization as an arm of state government of what historically had been periodic groups loosely referred to as Texas Rangers. Initially created to combat the menace of repeated raids of Indians from the north and from Mexico into frontier counties, the Battalion was led by an unusual choice: a frail, humorless Confederate veteran from Navarro County, John B. Jones. Under Jones's leadership, the Battalion grew in sophistication, moving from Indian fighting to capturing Texas's bad men, such as John Wesley Hardin and Sam Bass. Established during the unsettled time of Reconstruction, the Rangers effectively filled a local law enforcement void until competency was returned to local sheriffs' and marshals' offices.
Numerous books cover individual Texas Rangers of note, but only a few have dealt with the overall history of the Rangers, and, strangely, none about Jones specifically. For the first time, author Rick Miller presents the story of the Frontier Battalion as seen through the eyes of its commander, John B. Jones, during his administration from 1874 to 1881, relating its history—both good and bad—chronologically, in depth, and in context. Highlighted are repeated budget and funding problems, developing standards of conduct, personalities and their interaction, mission focus and strategies against Indian war parties and outlaws, and coping with politics and bureaucracy. Miller covers all the major activities of the Battalion in the field that created and ultimately enhanced the legend of the Texas Rangers. Jones's personal life is revealed, as well as his role in shaping the policies and activities of the Frontier Battalion.
Based largely on primary documents, especially the actual correspondence generated by the various actors in the Battalion's drama that best tell the tale, this book is a major contribution to understanding the early development and growth of what became the institution celebrated in legend today. And John B. Jones at last has a definitive biography that recognizes him as one of the most important men who actually laid the groundwork for that legend.
"This is a major contribution to Ranger history. The coverage is complete in every respect, with attention to details gleaned from every conceivable primary source. Miller's research has been prodigious." —Robert DeArment, author of Bat Masterson and the Deadly Dozen series
"Rick Miller's work on John B. Jones should stand as the definitive biography of this key figure in Texas Ranger history. Without the reputation Jones helped to build, the Rangers might not have survived the turn of the twentieth century." —Mike Cox, author of Wearing the Cinco Peso: The Texas Rangers 1821-1900 and Time of the Rangers: The Texas Rangers 1900-Present
"Rick Miller's record for outstanding biographies continues with this superb life of the man who turned rough and tough frontier militias into a highly effective group of men—the Frontier Battalion. John B. Jones and his six companies of Rangers stopped the threat of the Indian raiding parties, reduced significantly the onslaught of raids on Texas ranches and forced a number of feuding families to settle their differences peacefully. Jones and his Rangers forced Texans to respect the law. If any Texan deserves a statue erected in his memory it is Major John B. Jones." —Chuck Parsons, author of Captain John R. Hughes, Lone Star Ranger and The Sutton-Taylor Feud: The Deadliest Blood Feud in Texas
"Sweeping Texas Ranger histories have long been fodder for non-fiction writers. It is high drama to be sure—Rangers skirmishing with adversaries throughout the Lone Star State during a generically dubbed Wild West Era. Historians' payment of an overdue debt has stood in arrears for years. Although often mentioned in passing, Major John B. Jones, commander of the famed Frontier Battalion has not received his due—until now. Rick Miller, in this rich biography brings Jones out of the shadows, impartially measuring the man and meticulously analyzing his contributions to the State's history. Miller's research is masterful. Miller's writing is clean and crisp. This is Texas Ranger history at its best." —Bob Alexander, author of Rawhide Ranger, Ira Aten: Enforcing Law on the Texas Frontier and Winchester Warriors: Texas Rangers of Company D, 1874-1901
About the Author
RICK MILLER is the author of Bloody Bill Longley: The Mythology of a Gunfighter (UNT Press). He has also written biographies of Sam Bass (Sam Bass & Gang), Jack Duncan (Bounty Hunter), and Eugene Bunch (The Train Robbing Bunch). Raised in Dallas, Texas, Miller is a former paratrooper with the 82nd Airborne Division, and served in law enforcement as a Dallas policeman, as well as chief of police in both Killeen and Denton, Texas. Currently he is the elected County Attorney of Bell County, Texas. He holds a bachelor of arts from the University of Texas at Arlington, a master's degree in public administration from Southern Methodist University, and earned his juris doctorate at Baylor University School of Law. He lives in Harker Heights, Texas.