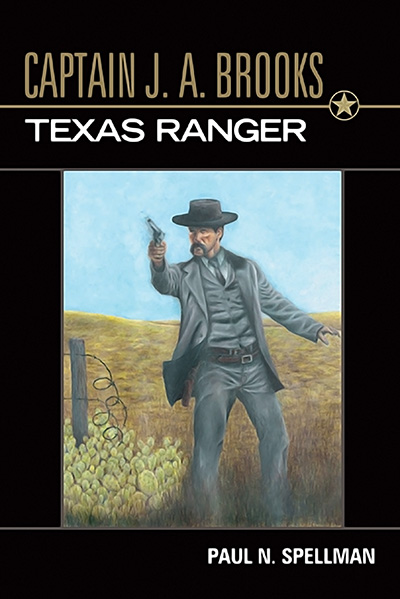 Captain J. A. Brooks, Texas Ranger
29 b&w illus. Notes. Bib. Index.
Features
About Spellman's Captain J. A. Brooks, Texas Ranger
James Abijah Brooks (1855-1944) was one of the four Great Captains in Texas Ranger history, others including Bill McDonald, John Hughes, and John Rogers. Over the years historians have referred to the captain as "John" Brooks, because he tended to sign with his initials, but also because W. W. Sterling's classic Trails and Trials of a Texas Ranger mistakenly named him as Captain John Brooks.
Born and raised in Civil War-torn Kentucky, a reckless adventurer on the American and Texas frontier, and a quick-draw Texas Ranger captain who later turned in his six-shooter to serve as a county judge, Brooks' life reflects the raucous era of the late nineteenth and early twentieth-century American West. As a Texas Ranger, Brooks participated in the high profile events of his day, from the fence-cutting wars to the El Paso prizefight, from the Conner Fight—where he lost three fingers from his left hand—to the Temple rail strike, all with a resolute demeanor and a fast gun. A shoot-out in Indian Territory nearly cost him his life and then jeopardized his career, and a lifelong bout with old Kentucky bourbon did the same.
With three other distinguished Ranger captains, Brooks witnessed and helped promote the transformation of the elite Frontier Battalion into the Ranger Force. As a state legislator, he brokered the creation of a South Texas county that bears his name today, and where he served for twenty-eight years as county judge. He was the quintessential enforcer of frontier justice, scars and all.
"This biography is the first full-scale study of the life and times of J. A. Brooks. In tying together his life—Ranger, state legislator, and judge—Spellman depicts Brooks as the faithful public servant." —Harold J. Weiss, Jr.
"We see Brooks' strong points and his flaws, and thus have a well-rounded picture of a human being. He is admirable in some respects, and less so in others. Spellman is to be congratulated in his approach and use of primary and secondary sources." —Charles M. Robinson III, author of The Men Who Wear the Star
"Spellman is an exceptional storyteller. His excellent book will be a major contribution specifically to Ranger history and to Texas history in general." —Donaly Brice, Texas State Archives
Of Related Interest:
Captain John H. Rogers, Texas Ranger
Paul N. Spellman
1-57441-159-4 cloth $29.95
In the Line of Duty
Lewis C. Rigler and Judyth W. Rigler
0-929398-99-8 paper $14.95
About the Author
PAUL N. SPELLMAN is professor of history and division chair at Wharton Junior College, a native Texan, and an Old 300 descendant. He is the author of Race to Velasco, Forgotten Texas Leader: Hugh McLeod and the Texan Santa Fe Expedition, and Spindletop Boom Days.
PAUL N. SPELLMAN teaches Texas and American history at Wharton Junior College. He is a native Texan and descendant of the Old Three Hundred family of Zadock and Minerva Cottle Woods. Spellman has authored five books, including Captain John H. Rogers, Texas Ranger, Race to Velasco, and Spindletop Boom Days. He lives in Richmond, Texas.