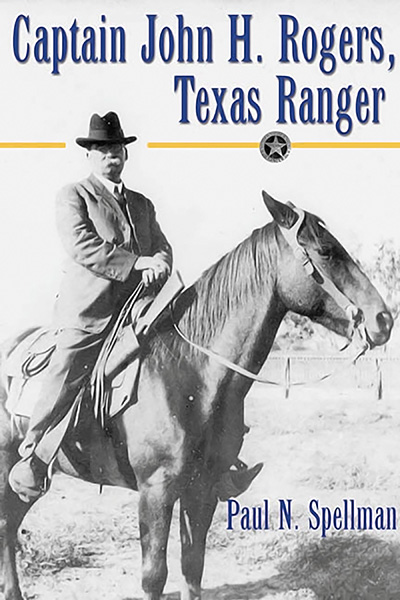 Captain John H. Rogers, Texas Ranger
18 b&w photos. Notes. Bib. Index.
Features
About Spellman's Captain John H. Rogers, Texas Ranger
John Harris Rogers (1863-1930) served in Texas law enforcement for more than four decades, as a Texas Ranger, Deputy and U.S. Marshal, city police chief, and in the private sector as a security agent. He is recognized in history as one of the legendary "Four Captains" of the Ranger force that helped make the transition from the Frontier Battalion days into the twentieth century, yet no one has fully researched and written about his life. Paul N. Spellman now presents the first full-length biography of this enigmatic man.
During his years as a Ranger, Rogers observed and participated in the civilizing of West Texas. As the railroads moved out in the 1880s, towns grew up too quickly, lawlessness was the rule, and the Rangers were soon called in to establish order. Rogers was nearly always there. Likewise he participated in some of the most dramatic and significant events during the closing years of the Frontier Battalion: the Brown County fence cutting wars; the East Texas Conner Fight; the El Paso/Langtry Prizefight; the riots during the Laredo Quarantine; and the hunts for Hill Loftis and Gregorio Cortez. Rogers was the lawman who captured Cortez to close out one of the most infamous chases in Texas history.
Unlike the more gregarious Bill McDonald, Captain Rogers had a quiet manner that kept him from the public limelight; nevertheless, he, John Brooks, and John Hughes shared the same experiences as McDonald during the almost two decades they led the Ranger companies. Unique to Rogers' career was his devout Christian faith that was on display on almost all occasions. Rogers was wont to use the Bible as often as his six-gun, both with dramatic effect. That and his constant devotion to his family set him apart from the usual lawmen of that era. He was a man of the law and a man of God, a rare combination at the turn of the century.
"Spellman's biography will be of great significance to Ranger historians and will appeal to both academic and general readers." —Harold J. Weiss, Jr., Texas Ranger historian
"He was in every sense a Christian gentleman, a brave man and an officer who gave character and dignity to that field of service." —Texas Governor Dan Moody
"Spellman has written a thorough, well-organized, and quite readable biography of John Rogers. The Texas Rangers would have an even better reputation if the organization had had more men like Captain Rogers." —Mike Cox, author of Texas Ranger Tales
"[Rogers'] philosophy was: 'Once you have pulled your guns use them with absolute resolve.' He certainly did during his career as a Ranger… A good addition to Texas Ranger lore." —True West
"Spellman offers a narrative biography that is exceedingly well crafted… It is a must read for scholars and laymen alike." —Journal of the West
About the Author
PAUL N. SPELLMAN is professor of history and division chair at Wharton Junior College, a native Texan, and an Old 300 descendant. He is the author of Race to Velasco, Forgotten Texas Leader: Hugh McLeod and the Texan Santa Fe Expedition, and Spindletop Boom Days.
PAUL N. SPELLMAN teaches Texas and American history at Wharton Junior College. He is a native Texan and descendant of the Old Three Hundred family of Zadock and Minerva Cottle Woods. Spellman has authored five books, including Captain John H. Rogers, Texas Ranger, Race to Velasco, and Spindletop Boom Days. He lives in Richmond, Texas.